Minco Gold Corporation currently holds a total of 13 Exploration Permits within China, and is actively evaluating advanced gold projects outside China for potential acquisition.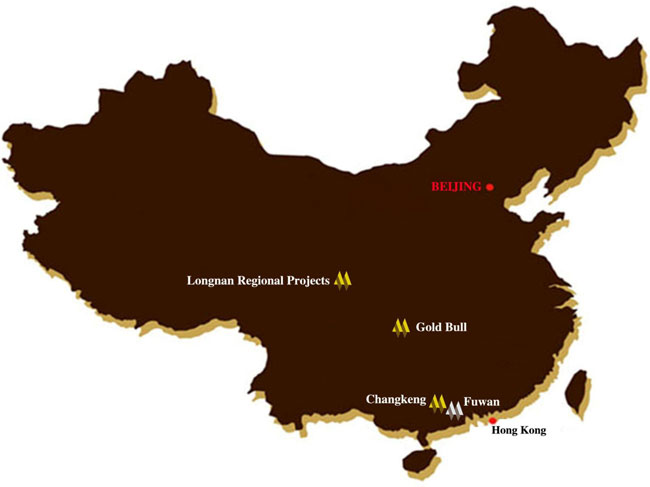 CHANGKENG GOLD
The Changkeng gold deposit is located approximately 45 km southwest of Guangzhou, the fourth largest city in China with 13 million people and the capital city of Guangdong Province. The project is adjacent to Minco Silver Corporation's Fuwan Silver deposit and has substantial infrastructure in place.
For more information (click here)
LONGNAN REGION PROJECTS
The Longnan projects are within the southwest Qinling gold field which is located in the southern part of Gansu province, 30 km northeast of Longnan (Wudu) City and 250 km southwest from the nearest railway station and the airport in Tienshui City. The area is connected with the provincial center Lanzhou and major cities with paved roads.
Minco Gold's wholly-owned subsidiary, Minco China, presently holds 10 exploration permits in the Longnan region of south Gansu Province, China, noted as the Yejiaba, Yangshan, and Xicheng East.
For more information (click here)
GOLD BULL MOUNTAIN
The Gold Bull Mountain (Jinniushan) property is located in Yuanling County, Western Hunan Province, in the People's Republic of China. Situated along a large man-made hydroelectric reservoir, the project is accessible by road with telephone lines, cell-phone service, water, goods and services, and labor available nearby. The famous Xiangxi Gold mine is located 6 kilometres south and is the oldest gold mine in the province having been in operation for over one hundred years. Gold Bull Mountain is classified as a non-material property by the Company.
For more information (click here)
EQUITY INVESTMENT IN MINCO SILVER CORP
The Fuwan Silver Project is located in Gaoming Country approximately 45 km southwest of Guangzhou City, the capital of Guangdong Province, and the fourth largest city in China with a population of 13 million people. The property is adjacent to Minco Gold Corporation's Changkeng Gold Property.
Minco Silver Corporation holds three exploration permits totaling 125.74 km
2
. The first, the Luoke-Jilinggang, is 57.16 km
2
in size and held by Foshan Minco, while the other two permits are the Guyegang permit totaling 55.88 km
2
, and the Hecun permit totaling 12.7 km
2
, held by Minco China in trust for Foshan Minco. To date, the Company has only worked on approximately 2.8 km of a 10 km strike length.
For more information (click here)
For further information, please see our
43-101 Technical Reports page
and then follow the link to our NI 43-101 Technical Report dated May, 8, 2009. U.S. Shareholders may
click here
to for cautionary notes. The information is also available on SEDAR at
www.SEDAR.com
All other disclosure of a scientific or technical nature on this website was reviewed and approved by Thomas Wayne Spilsbury, an independent director of Minco Silver Corporation, a Member of the Australian Institute of Geoscientists and a Fellow of the Australasian Institute of Mining and Metallurgy CP (Geo) and a "qualified person", as defined in NI 43-101.