Advanced Stage Exploration Project
Location
The Changkeng gold deposit is located approximately 45 km southwest of Guangzhou, the fourth largest city in China with 13 million people and the capital city of Guangdong Province. The project is adjacent to Minco Silver Corporation's Fuwan Silver deposit and situated close to well established water, power, and transportation infrastructure.
Ownership
The Company, indirectly through Minco China owns a 51% interest in a joint venture company formed and known as Guangdong Mingzhong Mining Co. ("Mingzhong"), which holds the Changkeng Gold property and the Changkeng Exploration Permit.
Background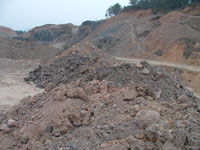 click to enlarge
Gold was discovered at Changkeng in early 1990 by systematic follow up of stream sediment and soil geochemical anomalies identified from surveys completed by the Guangdong Provincial government. Illegal, small-scale mining began in 1991 and removed most of the oxidized, near-surface mineralization.
Based on 13 surface trenches and 81 diamond drill holes, P&E Mining Consultants Inc. ("P&E") of Brampton, Ontario, prepared an initial NI 43-101 compliant resource estimate on the deposit in March of 2008. The Company then conducted a comprehensive exploration program on the project including approximately 12,000 metres of combined step out and in-fill diamond drilling in 61 holes. The updated (March 25, 2009) detailed resource estimate is provided below.
Geology and Mineralization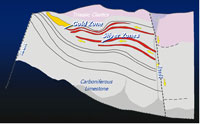 click to enlarge
The Changkeng Project is located at the northwest margin of a triangular Upper Paleozoic fault basin, at the margin with the northeast trending Shizhou fault to the northwest, the east-west trending Dashi fault to the south and the northwest trending Xijiang fault to the northeast. Precious and base metal occurrences and deposits are known to occur predominantly along the margins of the 550 km² basin. The Changkeng Gold Property is covered by the 1.18km² area over the Changkeng permit. The Changkeng Project is comprised of three mineralized zones, termed the CK1, CK2 and CK3 Zones. The overall strike length of the deposit, incorporating these zones, is approximately 1200 meters in a N065° direction, with a cross-strike width of between 110 to 380 meters. The deposit outcrops on surface and the deepest zone of mineralization intersected by drilling to date is approximately 280 meters below surface. The average width of a mineralized intersection is 10.4 meters (apparent thickness).
The Changkeng Project falls into the broad category of sediment hosted epithermal deposits. Gold mineralization occurs as lenticular bodies in the brecciated Triassic classic rocks at the upper portion of the synform zone. The gold zone tends to pinch out toward the hinge of the syncline where it is replaced by silver mineralization at the Fuwan Silver Deposit.
Drilling Program
The Company completed a comprehensive exploration program on the Changkeng Gold Project consisting of 66 diamond holes, an extensive hydrological study as well as geotechnical survey. The drilling program was designed to expand the known resources through step-out drilling. Drilling was mostly conducted on approximate 40 meter section spacing with holes on section between 20 meters to 80 meters apart.
At the completion of the drilling program, the known gold mineralization at the Changkeng Property was extended by approximately 400 meters along strike to the east-northeast; from just less than 900 meters to approximately 1200 meters in length. Mineralization was also extended down dip in localized areas along the eastern end of the known mineralization
Resource Estimate
An updated independent resource estimate was calculated by P&E Mining Consultants and released on March 25, 2009. The estimate contains indicated gold ("Au") resources of 4.0 million tonnes @ 4.89 g/t Au for a total of 623,100 oz Au and inferred resources of 4.0 million tonnes @ 3.01 g/t Au for a total of 386,800 oz Au. Minco Gold has 51% ownership of the Changkeng Project.
Diamond drill data from a total of 127 drill holes and 13 surface trenches were used for the resource calculation of which 59 are new holes completed in 2008. The drilling to date was conducted on an approximate 40 metre section spacing with holes on section between 20 metres to 80 metres apart. Drilling prior to 2007 was undertaken by the Chinese Government 757 Exploration Team. Grade interpolation was undertaken with the inverse distance squared estimation method.
Table 1:
Changkeng Gold Deposit Resource Estimate
1
@ 1.2 g/t AuEq* Cut-Off Grade.
Classification
Tonnes
Au
(g/t)
Au
(oz)
Ag
(g/t)
Ag
(oz)
AuEq *
(g/t)
AuEq *
(oz)
Indicated
3,961,000
4.89
623,100
11.2
1,423,000
5.08
646,800
Inferred2
4,001,000
3.01
386,800
9.5
1,218,000
3.16
407,000
* The AuEq grade was calculated from metal prices of US$800/oz Au and US$14/oz Ag with respective recoveries of 95% and 90%. The calculated Au:Ag ratio was 60:1.
Mineral resources which are not mineral reserves do not have demonstrated economic viability. The estimate of mineral resources may be materially affected by environmental, permitting, legal, title, taxation, sociopolitical, marketing, or other relevant issues.


The quantity and grade of reported inferred resources in this estimation are conceptual in nature and there has been insufficient exploration to define these inferred resources as an indicated or measured mineral resource and it is uncertain if further exploration will result in upgrading them to an indicated or measured mineral resource category.
The
Table 1
Changkeng gold resource was defined using approximate January 31, 2009 24-month trailing average metal prices of US$800/oz Au and US$14/oz Ag. Costs of US$12/tonne for mining, US$13/tonne for processing/tailings management, and US$5/tonne for G&A for a total of US$30/tonne and a process recovery of 95% for Au and 90% for Ag yield a cut-off grade of 1.2 g/t AuEq.
The mineral resources were estimated using the Canadian Institute of Mining, Metallurgy and Petroleum (CIM), CIM Standards on Mineral Resources and Reserves, Definitions and Guidelines prepared by the CIM Standing Committee on Reserve Definitions and adopted by CIM Council December 11, 2005.
For further information, please see our
43-101 Technical Reports page
and then follow the link to our NI 43-101 Technical Report dated May, 8, 2009. U.S. Shareholders may
click here
to for cautionary notes. The information is also available on SEDAR at
www.SEDAR.com
All other disclosure of a scientific or technical nature on this website was reviewed and approved by Thomas Wayne Spilsbury, an independent director of Minco Silver Corporation, a Member of the Australian Institute of Geoscientists and a Fellow of the Australasian Institute of Mining and Metallurgy CP (Geo) and a "qualified person", as defined in NI 43-101.